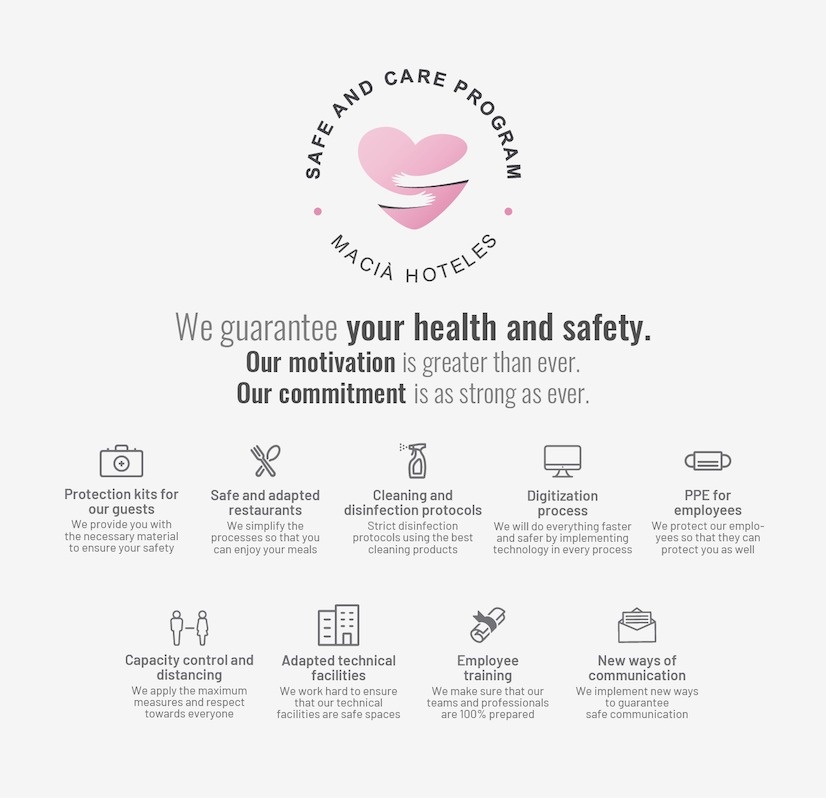 World Monument Day 2020 is celebrated at home
Macià Hoteles
18/04/2020
Today is celebrated around the world as
World Monuments and Sites Day
. It is a celebration sponsored by UNESCO that depends on the International Council of Monuments and Sites (ICOMOS) and that this year, like so many other things, will be celebrated in a different way. As a company linked to the tourism sector in a region as monumental as Andalusia,
we are especially aware of the heritage that is close to our hotels
and we are going to celebrate it by joining the label #PatrimonioCompartido and # IcomosIDMS2020. Among other things, you can consult this interactive digital poster that ICOMOS itself has designed and published:
We are going to enrich it by reviewing the most fascinating monuments that are in the surroundings of our establishments to remember that they are still there and that we will continue to take care of them and admire them when the confinement ends.
Seville
Our
Macià Sevilla Kubb hotel
is a few meters from the old town of Seville, in Plaza Carmen Benítez. But if we had to choose a single recommendation we would insist on visiting
the Real Alcázar of Seville
, a fifteen minute walk from our door. Luckily
we can go ahead and visit its online section designed for these days of isolation
, including a virtual 360º view of its spaces.
Cordova
The
Macià Alfaros
is also located in a privileged way in the center of Córdoba, with many nearby options: La Torre de la Calahorra, the Alcázar de los Reyes Cristianos ... But we are going to recommend
the Roman Temple
which is 250 meters from the hotel, in the Claudio Marcelo street. It dates from the 1st century AD. C. and was rebuilt by the architect Félix Hernández so that these ruins invited us to imagine their original majesty. And you are going to allow us to suggest you visit our
Albaida Castle
, whose history dates back to an 8th century Arab fortification converted into a castle that was owned by noble families, restored in 1919 by order of the Countess María de la Paz Olalla and Single house.
It is the monumental jewel of Macià Hotels!
In
this link you can take a tour in images
.
Sanlucar de Barrameda
Cádiz and its entire coast are already a monument in itself ... Twenty minutes walk from the
Macià Doñana
you can visit the
Ducal Palace of Medina Sidonia
, declared monumental in 1973. You will be able to visit its magical gardens and if you approach it during its opening hours to the public you can see even Goya paintings. Not right now, of course. But you can
tour in images part of this palace
.
Pomegranate
Here perhaps we should stop longer. There are five Maciá hotels in the Nasrid city (
Condor
,
Plaza
,
Real de la Alhambra
,
Five Senses
and
Monasterio de los Basilios
) and there is much, much heritage to see. The easy thing would be to tell you where the Alhambra or the Generalife is, which is one of the main claims of our city. But instead we are going to send you to the
Royal Room of Santo Domingo
, a recovered space that is even earlier than the Alhambra itself, and that in a more limited space transports us to Al Ándalus with the same magic. If you want, you can get closer to the feeling of the real world with this video:
Remember that this is just a sample of what Andalusia offers the world, and that the World Day for Monuments and Sites continues with initiatives such as #patrimoniodesdemiventana with which you can collaborate.
Comments