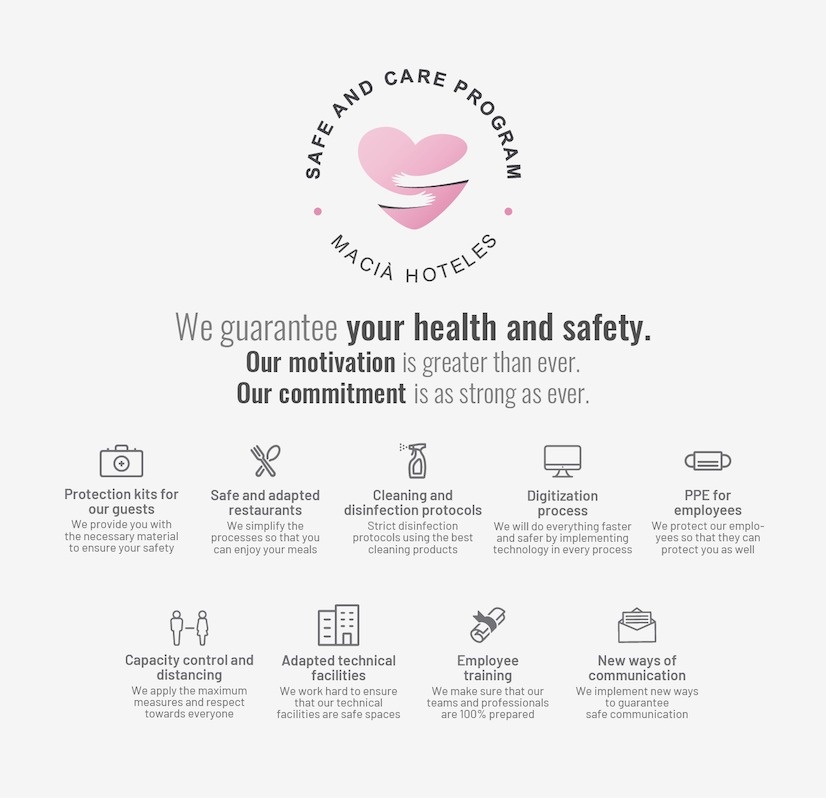 Safe Tourism Certified - Travel Tips
Macià Hoteles
19/05/2020
It should come as no surprise that at the moment when the terms and conditions of the so-called 'de-escalation' are beginning to be defined, the tourism sector is one of the most mentioned and causes the most concern. In 2019 this sector left a total of 92,278 million euros (INE data) in our economy, breaking a new record. And a study by Best Hotels Spain has already warned that hygiene and safety will be decisive factors in achieving more hires in 2020.
From the hospitality professionals themselves, a debate has been built around the way in which tourist establishments should reopen their doors. The Business and Hospitality Association of Madrid took the initiative at the time, starting to talk about a special registry, which they called the Covid Free Hotels Protocol, but the Institute of Tourist Quality has already officialized a special seal, the Safe Tourism Certified , which covers 21 tourism subsectors.
This has led to a series of protocols and guides published by the Ministry of Industry, Commerce and Tourism for the sector, with some specific recommendations for hotels , in a report prepared by the Committee of Technicians constituted by the ICTE itself in collaboration with the Confederation. Spanish Hotel and Tourist Apartments (CEHAT) and territorial organizations, chains and hotel companies such as ours, agreed with the Spanish Association of Labor Prevention Services (AESPLA), PRLInnovación, and unions. This document already includes a complete series of indications on common spaces, the reception service, cleaning in kitchens or rooms, protocols for action against infections, etc.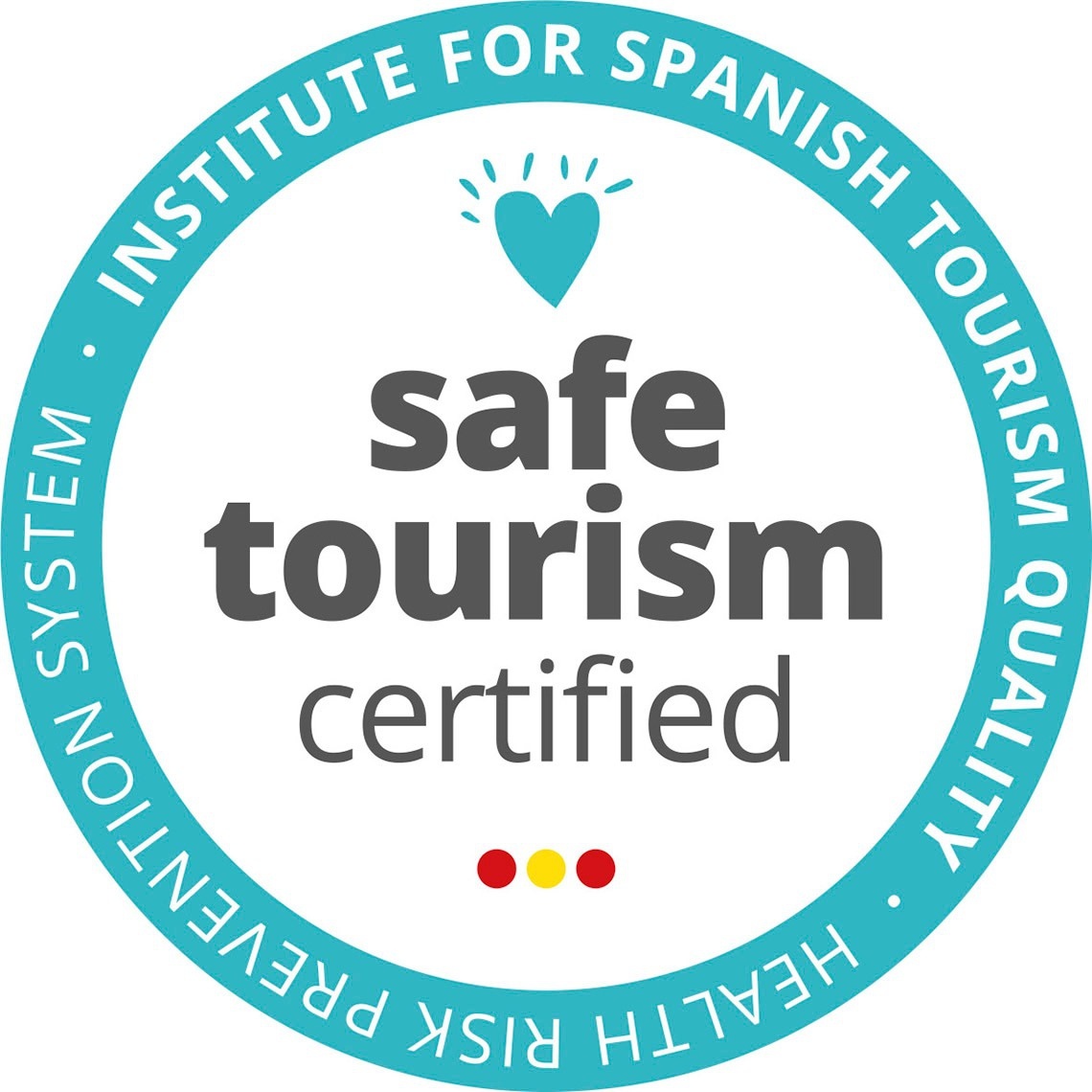 At Maciá Hoteles, it is still early to predict what holidays and trips of foreigners and nationals will be like in our destinations. We can confirm that we have been preparing to reopen our doors from the day we closed them, with staff training processes, implementation of hygiene protocols, special security studies for common areas -which are usually one of the attractions of our hotels in Andalusia-, among other actions that coincide with what these official guides are recommending to the sector.
Tips for traveling, if you are traveling
In the event that we are going to travel in the coming months - we will all do it again, sooner or later - we consider it necessary to assume that the world we are going to find is going to be different from the one we stopped exploring before March 15. We will have to take into account new conditions and possibilities, and in these tips we try to summarize the most important:
1. The new normality carries a new responsibility . That the infections do not return and that we are all safe depends on all of us following the recommendations that we already know, wherever we are, and that we are sensitive to possible measures that have been put in place wherever we go.
2. We have to be prepared . In your luggage add gloves, masks, sanitary gel, everything that can be extra security without thinking about buying it at the destination.
3. Take out cancellation insurance for flights, train tickets, reservations ... If there is one thing we have learned it is that nothing is completely predictable.
4. Identify with the environment and support the local economy . In the places where you go to enjoy a few days of tourism there are professionals linked to tourism of all characteristics and they are looking forward to your arrival to reactivate.
5. Anticipate what you are going to do, plan visits and activities . Everything that can be planned will facilitate your trip. Don't improvise.
6. Put patience in the suitcase and do not have very defined expectations . It is likely that part of that planning will be frustrated because some activity does not adequately manage your reservations or because there is a lack of information about spaces or visiting hours. We are all doing our best and there may be glitches. If we can help you from the reception of a Hotel Macià to make your stay more satisfactory, count on us.
7. Enjoy! We all continue to carry uncertainty and fear, but within the possibilities that this 2020 leaves us we have to appreciate this new time. All those who have been working these two months for our health did so thinking that we could be able to be happy again. We owe it to them! Feel free!
Follow our social networks and our blog to stay up to date with the news of our hotels in Andalusia. We are closer to see you again!
Comments